Amazon.com Inc. is making a foray into social selling.
Amazon Spark is a Pinterest-like program in the Amazon app that let's consumers browse and shop a feed of pictures that Prime members with similar interests have shared in Spark. Amazon Spark, launched Tuesday, is available only through Amazon's iPhone app; an Android version will be available soon.
To start, shoppers must first select five or more interests, such as books, do-it-yourself, toys and games, and healthy food.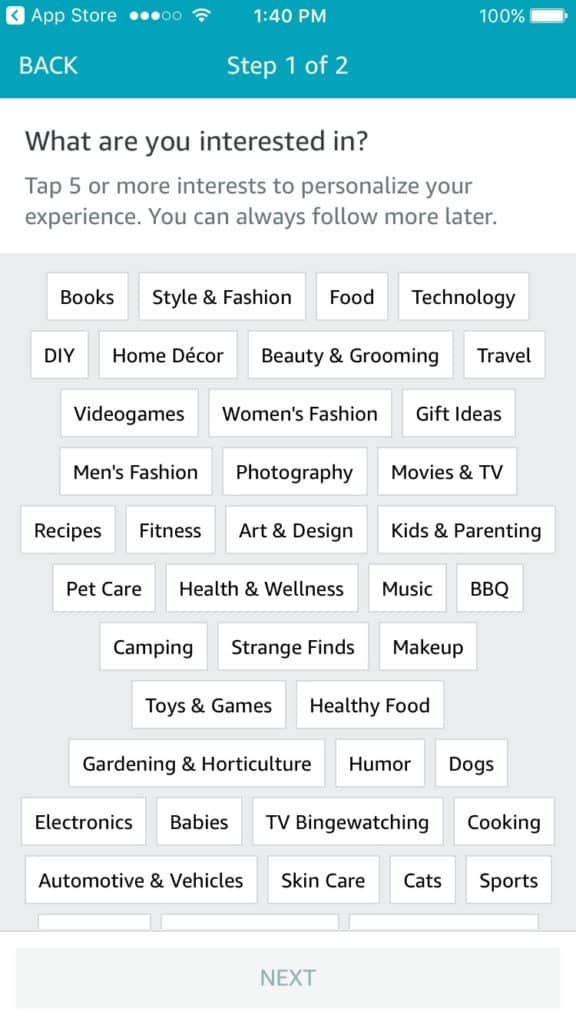 From there, shoppers can scroll through a feed of photos that relate to those interests and tap on photos that are shoppable. Amazon lets users know that a photo has products for sale in it by putting a shopping bag icon in the corner of the image.
After a shopper taps on a photo, Amazon will show her which products are in that photo and provide links to buy those products on Amazon. Shoppers can interact with posts by leaving comments and "smiles," which are similar to "likes" on Facebook.
Products sold through Spark include those from marketplace sellers as well as Amazon itself. Anyone can see posts on Spark. However, only Prime members are able to share products and photos of their own, tagging up to five interests to maximize visibility. The Prime member sharing the photo is responsible for tagging which products are in each photo and finding those products on Amazon. It does not appear that marketplace sellers have to do anything to participate in Spark themselves, rather users can simply tag a seller's products in a photo if they are so inclined.
"We created Spark to allow customers to discover—and shop—stories and ideas from a community that likes what they like," an Amazon spokeswoman says. Amazon's spokeswoman declined to specify how many people have joined or used Spark so far. The retailer is No. 1 in the Internet Retailer 2017 Top 500.
Here's an example of how it works: A Prime member shared a photo on Spark of Amazon founder Jeff Bezos with the caption, "Buy the Bezos look." The Bezos photo would show up in the Spark feed of a consumer who has interests in the men's fashion, Amazon enthusiasts or fitness categories.
If a consumer taps on the Bezos photo, Amazon highlights five products shoppers can buy, including a vest that is similar to the one Bezos is wearing in the photo, all the way down to peel-and-stick name tag similar to the one Bezos is sporting.
The social aspect of Spark is key, says independent media analyst Rebecca Lieb.
"People are actively reading reviews on Amazon, and if an Amazon member puts something on Spark, that is an implicit recommendation of the product," she says. An Internet Retailer survey in May 2016 found that more than half–52%–of all shoppers say they look at ratings and reviews when shopping on online marketplaces, and usually decided whether or not to buy based on those ratings and reviews.
"Even if some of those reviews are negative, there's research that shows that some negativity in a sea of positive reviews only validates that the reviews are legitimate," Lieb says.
Retail industry experts say Amazon Spark is likely to have affect shoppers in a couple of ways. It could mean that shoppers who use the platform find that their Amazon experience becomes even more personalized. It also could make Prime members even stickier than they already are by adding another level of engagement to the service, especially because Prime members are the only consumers who can share their own original content.
"[Spark] will enable Amazon to not just stitch together different kinds of data sets across their platforms, which we'd expect, but by advancing recommendations and usability, it will increase the frequency at which consumers use their services," says Mat Zucker, a partner at global brand and marketing consultancy Prophet.
"In addition to a possible increase in spending by Prime members, who are extremely valuable to Amazon, the company could use this new platform to increase advertising revenue and add to their stockpile of purchasing data," adds Tom Caporaso, CEO of e-commerce platform provider Clarus Commerce.
Lieb says she thinks Spark eventually could determine how much shoppers pay for a particular product on Amazon.
"If they know you're in the market for something, the price may go up or down based on whether or not Amazon thinks you're ready to buy it," she says. "From a data standpoint, it is a way for Amazon to figure out which categories you're interested in and actively researching, and it's a way for Amazon to craft better offers."
Favorite