Indochino, No. 552 in the Internet Retailer 2018 Top 1000, plans to open 20 showrooms this year, including one in Brooklyn on Friday. This showroom openings growth comes on the heels of the 18 showrooms Indochino opened last year, bringing its current total to 38.
Showrooms are increasingly crucial to Indochino's bottom line, given that they represent 70% of the retailer's revenue, says Peter Housley, Indochino's chief revenue officer. That's a dramatic shift from four years ago, when e-commerce accounted for 75% of the brand's sales.
Beyond driving those direct sales, physical stores also produce a multiplier effect; once Indochino moves into a market, its overall sales in the area grow as the storefront builds brand awareness.
"After we open a store, sales at first shift from online to offline," he says. "But by the time the store is a year old, we see our online sales recover and the overall pie within the market grow."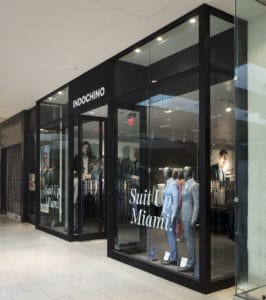 Assessing the value of stores
There are several ways the retailer evaluates the impact the stores have on overall sales. The simplest way is by asking: The retailer asks new customers how they heard about the brand at checkout, and customers replying they "saw a store" represents a "significant" share of those referrals within the markets where it operates a physical storefront, Housley says.
Indochino also leverages more sophisticated methods, such as location analytics. The routers within its stores can identify a consumer's mobile device when a consumer uses its Wi-Fi nearby or within a store. It then matches that device ID with databases managed by outside vendors to identify and serve ads to potential customers. The system also enables it to see if it already served a customer with an ad.
The retailer also examines a consumer's "dwell time" within a store, which is the amount of time he spent browsing or interacting with a store associate. Doing so enables it to identify likely customers who Indochino can try to drive to make a purchase.
Indochino's customer acquisition strategy
Roughly 60% of the retailer's customers last year were new to the brand, which Housley attributes to the retailer's effective customer acquisition strategy, which includes its stores, as well as marketing channels such as social media.
On Facebook and other social platforms, the retailer leverages a variety of "tried-and-true" tactics, including Custom Audiences, which enables it to identify its existing customers on the social network, and Lookalike Audiences, which enables it to find consumers who share traits with its existing customer base, as well as the data consumers share on the platform, such as their relationship status. For example, Indochino regularly targets consumers who change their status to engaged with ads highlighting its wedding line. And on social networks and in email, the retailer is an avid user of sequential messaging that use a steady flow of content to drive a narrative that aims to convince a shopper to make a purchase.
However, podcast ads have the lowest cost per acquisition of any marketing channel, he says. The retailer regularly advertises on high-profile podcasts with audiences that skew male and focus around sports and news such as "Pod Save America" and "The Bill Simmons Podcast." That's because podcast ads offer the best of many different marketing channels and help Indochino explain how its made-to-measure clothing works, Housley says.
"When the podcast host, who has credibility with his audience, explains how Indochino works, it builds brand awareness," he says. "At the same time, they include an offer code, which we can track."
Given its success on podcasts and its belief that it had maxed out on the podcasts that could generate strong returns, Indochino began leveraging radio ads in the fourth quarter. Those ads feature the retailer's CEO Drew Green reading a script that explains the Indochino approach.
Global expansion
Despite being a 12-year-old retailer, Indochino continues to generate strong growth. Internet Retailer estimates the retailer sold $61.9 million online in 2017, a 32% jump from the previous year, according to Top500Guide.com.
The retailer's continued growth stems from its expansion plans. This year the retailer is expanding into new categories, such as chinos, outerwear and more casual Untuckit-like shirts. And it is also evaluating the best way to drive international sales. It has yet to decide whether it will open its first showroom outside of North America, begin selling on online marketplaces that generate strong sales in Europe and Asia or whether it will work with another merchant.
Regardless of the approach, Indochino will continue evolving, Housley says.
Favorite