Amazon.com Inc. is serious about fashion, which has quickly emerged as a large business for the e-commerce company. Amazon's apparel business now accounts for 16.6% of all online apparel sales among U.S. consumers aged 18 to 34, according to Slice Intelligence data.
A growing share of those sales stem from its ability to sell items that consumers can't get anywhere else.
The latest evidence of that push is its Thursday announcement with PVH Corp.-owned Calvin Klein Inc., in which it will sell exclusive lines of the designer's underwear, loungewear and jeans. It is also launching co-branded pop-up shops featuring a selection of those items in New York and Los Angeles.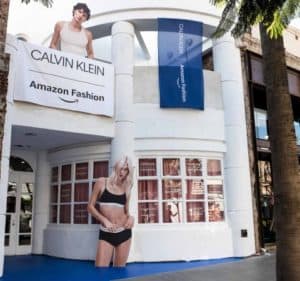 The pop-up shops are integrated with the Amazon ecosystem. For example, a consumer can make a purchase in one of the shops by scanning a bar code in the Amazon app. She can then choose to have the item delivered to her home or she can take it with her. Fitting rooms also contain Amazon Echo smart speaker devices that allow shoppers to ask Amazon's voice-based assistant Alexa questions about the products, control the lighting and play music of their choice. The pop-up shops will also feature customization stations that allow shoppers to have the underwear  they buy embroidered.
The shops also feature an area that the brands are calling "content creation spaces" that aim to encourage shoppers to create social media clips. And lounge areas will connect shoppers between the two shops via video calling using the Amazon Echo Show.
In addition to the pop-up shop, Amazon has launched a Calvin Klein brand store at Amazon.com/mycalvins.
The arrangement with Calvin Klein is similar to the one Amazon developed with children's apparel brand Carters Inc. The brand manufacturer earlier this year launched an Amazon-exclusive line, called Simple Joys by Carter's line and it also began selling a narrow assortment of bundled items, such as a two-pack of pants, on Amazon.
PVH is No. 60 in the  Internet Retailer 2017 Top 500. Amazon is No. 1.
Favorite