Google on Tuesday launched a multi-pronged push that includes an overhaul of Google Shopping, a merger of elements of its Google Express delivery service with Shopping and the launch of a feature that enables brands to pay to promote products in another retailer's Google Shopping campaigns. The search giant also opened up a significant amount of new advertising inventory in online search, YouTube and its increasingly popular Discover service.
While Alphabet Inc.'s Google dominates online advertising, last quarter its revenue growth slowed, which sparked worry that Amazon.com Inc. and Facebook Inc.'s Instagram service are quickly seizing a share of the retail advertising market.
Google's response is to roll out a slew of shopping-related tools and features.
"We're making the places where people come to browse and explore products on Google shoppable," writes Surojit Chatterjee, Google's vice president of product management, shopping, in a blog post. "These new shopping experiences let people shop and purchase frictionlessly right where they already turn to for research and inspiration: Search, Google Images, YouTube and a redesigned Google Shopping destination."
The various steps build on relationships with consumers and retailers that Google has been developing for years, says Rebecca Lieb, a co-founder and analyst at market research firm Kaleido Insights. "Google is well-positioned from both the customer and retailer sides of the equation," she says. "It has the retailers, advertisers, search experience, a unified look and feel to Google shopping and, of course, customers and customer data."
A Google Shopping redesign
The search giant this year plans to launch a redesigned Google Shopping that features a personalized homepage on the Shopping tab that greets a user by name with the message "Let's go shopping" and tailors results based on the user's preferences. The shopper can filter results based on feature and brands. For example, a shopper looking for headphones might filter results based on a feature like "wireless" and a brand like "Apple."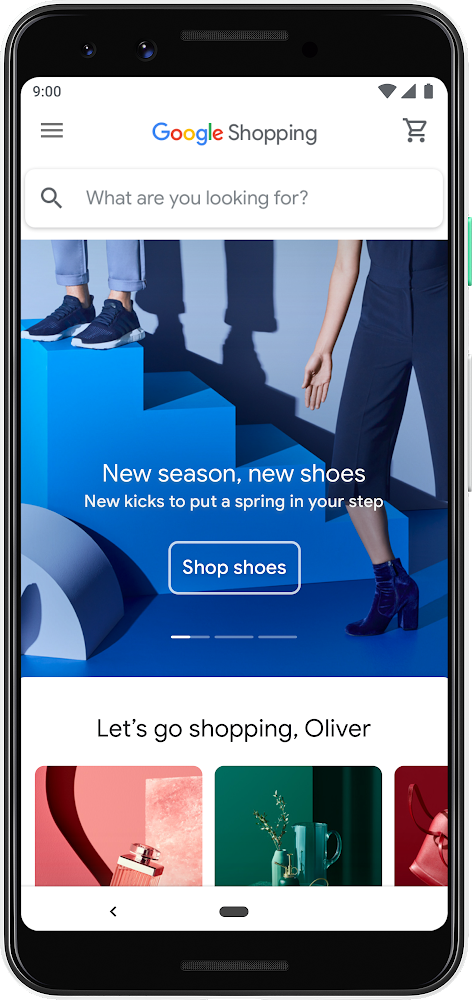 Google will indicate when an item that is bought online can be picked up in a store. Retailers can have that information displayed if they have a product landing page on their sites that show when in-store pickup is available and a local inventory feed in Google's Merchant Center, which many retailers already use for Google's local inventory ads. Merchants can also indicate within the Merchant Center the items that they can quickly ship to a store for in-store pickup.
Once a shopper narrows his selection to a single product, he can view product information, including product reviews and videos, which retailers upload to Google in its Merchant Center. And when the shopper is ready to buy, he can select whether he wants to purchase online on the retailer's ecommerce site, in a nearby store or directly on Google.
Retailers that are part of its Shopping Actions—which lets consumers more easily buy goods from retailers through the company's search engine, digital assistant and Express delivery—will be automatically included in the new purchase experience that spans Google Shopping, Google.com and the Google Assistant.
"For retailers and brands, it brings together ads, local and transactions in one place to help them connect with consumers at the right time," Chatterjee writes. In effect, the revamped Google Shopping marries ads and transactions in a single platform; the ads model is pay per click while the Shopping Actions model is pay per transaction.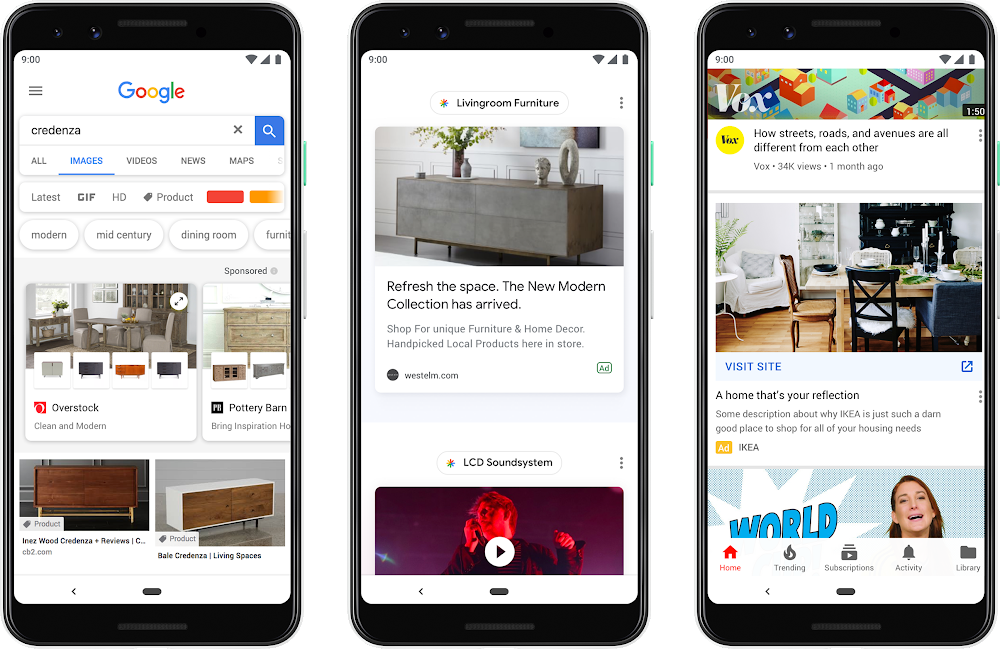 Google will also feature a blue shopping cart next to some items in its results feature to denote that the item is fulfilled by the Google Express delivery service. In merging elements of Google Express with Google Shopping, Google is looking to leverage its brand positioning to reassure consumers that they can receive simple returns and customer support that are backed by a Google guarantee.
But given that many of the brands that offer Google Express delivery are large and trusted, Sucharita Kodali, an analyst at Forrester Research Inc., isn't sure that positioning will matter to consumers. "A Google guarantee?" she says. "For a Best Buy product? That's not going to be a game changer as Best Buy already is a trusted merchant."
Google expands the reach of Shopping Actions
Google also plans to expand the reach of Shopping Actions to other Google platforms where consumers are looking for inspiration or research, such as YouTube and Google Images. The move is Google's latest attempt to expand its ads beyond its traditional paid search format. For
example, last month it announced that it is testing a new ad format called shoppable ads on Google Images that enables retailers to highlight multiple items available for sale within an ad that appears within Google Images results.
Finally, Google is introducing Shopping campaigns with partners that allows brands that either don't have ecommerce sites or have a minimal ecommerce presence to help promote products in another retailer's Shopping campaign. For example, Estee Lauder Cos. and a retailer recently worked together to boost sales of one of its designer fragrances in stores and online. The effort helped boost click share on Shopping ads for Estee Lauder Cos.' fragrances at the retailer by 70% on Google. Google and Estee Lauder declined to reveal which retailer. Estee Lauder is No. 50 in the Internet Retailer 2019 Top 1000.
While the offering is new to Google, it isn't a new idea; Facebook rolled out a similar format in February.
Favorite